Oh my....absolutely........
Sinful
Unbelievable
Delightful
Refreshing
Only in NC (but it's spreading)
Pleasing.

This is one awesome drink.....my hubby KNOWS that it MUST be in my house (or reach) at all times.....especially when we are travelling. And I MUST have it in the CAN....those plastic bottles make it taste gross.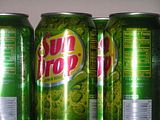 It is so delicious, made from orange juice, some people compare it to Mountain Dew or Mello Yello (ugh too sweet), I think it excells above these. It has the best blend of juice and carbonation. Served ice cold or it mixes well with bourbon, spiced rum or even with Peach Schnapps and Vodka! Oh yummmmm.
Someone actually stole a case outta the back of my truck (hydraulic lid covers the bed) in the middle of the Night off I-95 in St Auggie Florida (I was asleep in the hotel)........you know who you are out there cause now yer wanting some more of that redneck juice aren't ya? I hope you choked on it....Those Polly Pocket toys you stole didn't get you very far either did they??? And that suit didn't fit HA! It was a 52 portly and if I know street thieves y'all ain't no bigger than a goober!
Ahem....sorry bout that......
I told the cops to be on the look out for empty Sundrop soda cans and they'd find the thief........guess they never found them.
Have I told you lately that I love my SUNDROP???????