Tis the season! Everybody seems to be getting testy, on edge. It is apparent here at work and at home. Bossman is "somewhere out there", glazed over and not with it. Co-worker is her usual "flakey" self and now Mr Man is all bent out of shape over the shooting of an 18 year old by a cop.
The story is everywhere, but you can read it best in our local fish wrap www.starnewsonline.com . A grand jury indicted the cop on 2nd degree murder, now they are saying "ooops, we made a mistake". Oh joy. How do you make a mistake like this?? Guess it's gonna be a rule that it is ok to shoot people through a door just because you're a cop and **it happens.


Christmas is so close.....can you feel it? Yes, we've been playing seasonal tunes since Thanksgiving. Yes, I've gotten most of my house decorated and I've even 97% finished my shopping. I wasn't really in the mood to decorate. It becomes such a chore. And I know I shouldn't feel that way about it. Where is my spirit this year? Hmmmm, guess I'm just getting anxious about our trip to Tampa. Roxy I'll see ya at Jilly's!!


I always have a moment of saddness during Christmas, usually on the 24th late in the evening. That's when I'll go outside and gaze up at the stars in the silence. It is then that I can feel many different emotions. First is the awe of the night, the anticipation of Santa's arrival, the miracle of the birth of Jesus. The stars seem especially bright and happy. The night is so still and quiet and beautiful and it feels good.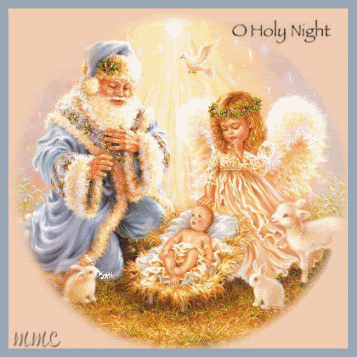 yay Missie!!
Then I am saddened by memories of Christmas past, kinda like Scrooge. I don't like to hear the song "I'll be home for Christmas" because it is what my Dad used to tell us, then he wouldn't show up. And when he did, there was always an excuse, he was "tired" (drunk). A lot of let downs at Christmas from him. It still happens. I don't make plans with him. As a matter of fact about 4 years ago I invited him to spend the night on Christmas Eve. He stayed up all night and was beligerant, drank my booze - booze that I had been given as a gift just that year. I was ILL! Beyond ILL. I said things to him that Christmas day that I should have never said on such a special occassion. We didn't speak for probably 6 - 8 months.
ty LJ!!
I had told him in the past that I would not have him acting that way in my home or around my kid. How horrible for her if she would have realized her grandpa was sloshed! She knew I was mad at him and I just explained that he had done something & that he didn't ask for permission. Gee thanks Dad.
We tried it again the next year and he was OK. Behaved. The next 2 years he has had surgery and not been able to come up. Fine with me, this was NOT a tradition I wanted to start.



My Papa isn't around anymore either. I always look around at where he wasthe last year he was with us and wonder if that's where he'd be sitting again. The answer is the same --- yes. (S'cuse me, tears...) Each year he'd buy coconuts and drainthem, then we'd grate the meat for Nanny to make homemade pies and cakes. He'd always save me some of the chunks to eat since I didn't eat the pies or cakes. He would always say "don't buy me nothing".....we didn't listen.
Tom will be missing his Mother......yesterday was the 9th anniversary of her death. Duh, THAT'S why he's acting funny and I didn't even realize it till I just wrote it down!
Geepers, this is NOT what I started out to write about, LOL!
snagged from Teri