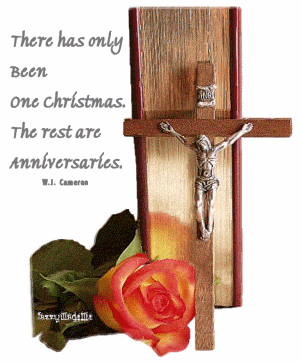 Thank you my J-land family for a wonderful 2006! I have met some wonderful people in this journey this year. You know who you are. I wish for each of you Peace, Love and Prosperity in the upcoming 2007!
MERRY CHRISTMAS!
I will be checking in on you while I'm away and I'll try to keep this journal updated. I have some cute pictures from last night and today that I will try to share with you once I'm settled in at Hounds Tooth Lane! That should be a wild place when we get there Tuesday afternoon!
As for us, we spent today in POURING rain! and at my parents house for a large lunch complete with presents. My daughter & nephew were a hoot! A bunch of silly kids - that makes the Christmas season extra special. It's not about the presents under the tree, but the gift of life, especially the one in a lowly manger some 2000+ years ago. I am thankful that God chose to give to us that special night. I am thankful for my family no matter how dysfunctional!! LOL!!! Wouldn't have it any other way.
My father was forced to have a sober Christmas this year - the ABC people wouldn't sell him any booze. What tipped them off??? His walker and his obvious difficulty in walking (since he just had hip replacement surgery in Nov) - they asked if he was on pain meds and when he said YES, they said NO LOL!!!!! Miracles happen!
OK......I'll be on the road. Wish us safe travels!
LOVE YOU ALL!