Good Tuesday to ya! Thought I'd share some pics from Tom's NY trip. He was only there for a short few days - not a lot of time for sightseeing and photographs.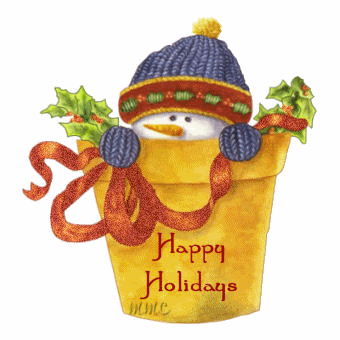 Today was the Christmas party at Miss T's school, tomorrow is a half day and then "winter break", I mean, let's get politically correct. Today she has a small "snack time" at dance. Their vacation gets cut short now...didn't it used to be a good 2.5 weeks just a few years ago??
Luckily, our work load slows down the week between Christmas and New Year's so we've been "saving" a few vacation days to take and we will close the office that week. Whew! Coworker is heading to Buffalo to meet the boyfriend's family.....I'm heading to Florida. Talk about extremes! Bossman isn't sure yet what he's going to do...it won't be a "family" vacation I'm sure. There's been plenty of those this year. Besides, he and wifey are still on opposite sides of the marriage. I just wish they'd go ahead and get the big "D"...sounds bad, but, hey, spend a few in my shoes here will ya?! Look, she's just not one of "us", she's way out there.


Anywho,
I had dinner with my good friend Sha last night. She is a computer guru and a nurse, so it can't hurt to have her as a friend. It was nice. The we strolled over to the Walmart....did you know they have a 4 disc boxed set of Garth Brooks for $15??? Wow! She picked it up...I'm tempted to.


I think I'm looking forward to my trip. The first couple of days will be OK, hanging out with the FIL and SIL, BIL, kids etc. Of course I'll hit Bealls (!!) for shopping if Santa is good to me. My friend Andrea will most likely have the week off too, so we'll hang and chill. Maybe I'll take a chair one afternoon over to Hudson Beach and just veg out.


Then (and this is the most exciting part) I'm hoping to be meeting up with some J-lander's later in the week!! How exciting. We've kinda pinpointed a date and place....just waiting for confirmation! This will be totally awesome!
SOUTH WEST FLORIDA WATCH OUT!!!!