Hey gang.......it's getting close, that famous day of the week we all look forward to. Yipppeee!!!
I put 2 new things on my sidebar...one was a Birthday Alert where you can enter your birthday and it will email me and say "Yo...say happy day to _____"; the other was a little quiz I made up after I did Hadon's. My co-worker of 6 years failed it LOL, but she didn't do too bad; actually she knows me quite well. I do like history, but mystery is my fav...and I do like rum, so I figured if I was gonna be in a hammock I'd already have some rum....now where's the breeze???
2 more things for 2-fer Tuesday. We've got a couple gals in J-land needing support and prayers. One medical and one emotional. Let's lift them up.
Shoes, now I do love shoes. There was a 1/2 off sale at the outlet this weekend and wouldn't you know it they only had ONE pair in my size of any color...and I wanted 2. Grrrr. My poor lil girl now has 10 pair of shoes, mostly flip flop stuff. Shoe fettish ...... that's me!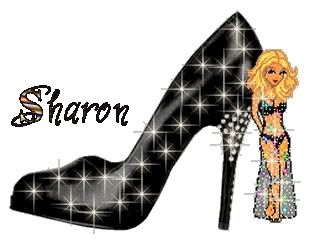 I would like to say a big

for all your well wishes and comments about my Miss T and her panic attacks. It really means a lot to know there are others who have been through this and come out on top. I still have attacks from time to time, it just depends on how life it treating me. When these happen to Tara, I try to remember how I felt and what worked for me and then get her to try those. This weekend's attitude I believe is part of her anxiety. We have a counseling session in the morning, I'll see what she has to say about it. Thanks again my great J-land family.
...............Sharon