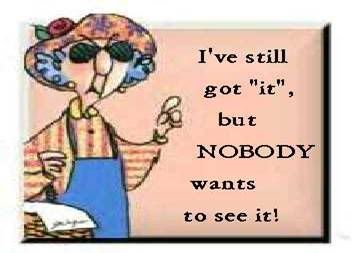 I love Maxine....she's my hero! Says what she means and means what she says! Pretty much on the mark too! This is how I'm feeling these days. Oh yes, and don't tell me differently! The beached whale pictures of 2 weeks ago proved it! Plus I don't feel my best at all. I've got to get my weight under control. (But I love my Sundrop and I don't want to give it up.....=(....and pasta, I'm married to an Italian!)
I've said it before, I can walk the mall or the beach. So why am I not doing it? Why am I sitting around doing nothing? GET OFF YER ARSE SHARON!
Whew, ok, now that's outta my system! I had the most enjoyable conversation last night with Barbara (confessions of an angel waitress). She is truly and angel. This gal's got it going on....awesome son, hottie hubby, glorious singing voice. She & Rick's anniversary (25) is coming up this Tuesday. Imagine....25 years with the same person. That is to be celebrated!
My anniversary is next Thursday. 4 years of wedded bliss, 9 years together and I still love this guy. He makes me laugh, he makes me angry; he's good to my kid and he cooks! What more could I want?

Here's a hint Tom & Rick! Hehehehehe. What am I thinking? It would take a BOULDER to get a guy to take a hint!
Lisa Jo / Damaged Goods (not!)....girl.....I'm so glad you are home. Focus on getting better, chillin, playing with the pups. We are all so glad to hear from you. J-land is not the same without you that's for sure!
AND....everybody say it with me..............
to Ellen (Private) on Sunday. Drop her an email (eml625) and wish her a happy day! She is one grande dame!
Now. This house. OMG! Today is the day I said I'd get busy. The spots, hell they're not spots, the huge black patches of fingerprint dust on Miss T's carpet are still there. Last week I bought the pre-mixed OxyClean and worked on one of them (12"x12") and it worked pretty good. I'm gonna go in today and work it some more. Didn't want to over do it, ya know, not knowing how the Oxy would react to the BLACK stain and the carpet. So far so good........
Laundry, geesh Louise! It's like a fungus...grows and grows and I STILL don't have anything decent to wear. (See the first entry above) Shoes....now Amanda (Trickytricky) has some shoes, but mine are all over the house. Easy pick up you say? HA! Not my shoes. Gotta have a decent place to put them once they're outta the way. And would you believe my suitcase is STILL in my car from the beach trip (???). It's mostly full of sheets and towels. I did do the laundry before we left there. See what I mean about the first entry of the day??? GET OFF YER ARSE!!!!
Thanks for letting me rant and ramble! Getting outta this 'puter chair now.....now where'd I leave my Sundrop???????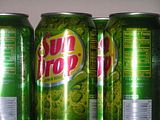 mmmmmmmmm